If features like the lens and chromatic aberrations correction alongside sharper images at wider apertures are something you would look for in a handheld microscope, Carson MicroBrite Plus 60x-120x may be the portable pocket microscope you want to check out.
All thanks to its aspherical lens system, this portable microscope from Carson is able to offer the above-mentioned capabilities. Besides that, it comes with a compact and lightweight design that offers 60x to 120x magnification.
Below is a full review of Carson MicroBrite Plus 60x-120x where we will further explore both the good things and not-so-things of this Carson Microbite Plus microscope. If you are new to buying microscopes, you may want to check out our free microscope buying guide that will help you in choosing one that suits your need.
Product Core Features – What's to Like?
LED illumination with Distortion-free Aspheric Lenses
It is impossible not to get a bright and crystal clear image when you have the perfect marriage of both LED lighting and aspheric lenses residing inside a handheld microscope.
Witness some crystal clear image shots from existing buyers for yourself.
Impressive 60x – 120x Magnification Range
With such a powerful magnification range, the possibilities are endless when you begin to explore the microscopy world with your kids and loved ones. My niece owns one and she loves to inspect her fat and chubby cats for lice every now and then. Yuck. 
Ridiculously Lightweight and Ultra-Portable
If you are an outdoor person like me, Carson MicroBrite Plus 60x-120x should be your lightweight companion whenever you go for outdoor activities like camping and forest trekking etc.
Super Affordable Price
Not sure about you but at this price point, this portable handheld microscope from Carson is really a steal for all the features it can offer. For the price of 2-star-buck coffee, I will not feel the pinch if I ever lose one during my outdoor trips. 
Outdoor jungle exploration

Viewing of super tiny living things like trichomes

Diagnosing spider mites

Exploring the microscopy world with kiddos

Hunt down parasites and their eggs

Repairing of tiny stuff like jewelry etc

Inspection of logic boards etc

many more
Carson MicroBrite Plus Product Specification Table
| | |
| --- | --- |
| Carson MicroBrite Plus |   |
| Dimension: | 2.2 x 1.2 x 3.7 inches |
| Shipping Weight: | 2.9 ounces |
| Item Weight: | 0.48 ounces |
| Power: | 1 AA batteries required |
| Magnification: | 60 x to 120x |
| Illumination type: | LED |
| Lense Type: | Aspheric internal lens system |
| Warranty: | Limited Lifetime |
Who should buy Carson MicroBrite Plus 60x-120x ?
Whether you are a frequent outdoor adventure seeker or an indoor hobbyist who loves to look at old coins and stamps, Carson MicroBrite Plus 60x-120x will not disappoint.
If you have pets at home, it's probably time to have a look at what's hidden within those flurry skin. 
Who shouldn't buy it?
Nope, you should not buy this inexpensive handheld microscope if you are looking for a high-quality build and feel and are expecting super duper ultra-clear image quality. If you are looking for such a microscope, this Dino-lite handheld digital microscope may be more suitable for you.
Is The Price Reasonable?
For less than two cups of star-buck coffee, I really cannot emphasize enough how price-worthy this compact and lightweight microscope is when you consider the many things you can explore with it. 
Reviews from Existing Buyers
The majority of the buyers are impressed with both the 60x – 120x magnification range as well as the image clarity. Some mentioned that the field of view is flat but with tolerable edge distortion.

They also like the transparent plastic shroud that allows additional light to reach the object they were viewing. Almost all buyers praise its user-friendliness.
Final Thoughts – Should You Buy Carson MicroBrite Plus 60x-120x ?
If you are having a hard time getting a low-cost yet educational gift for your growing kids, Carson MicroBrite Plus 60x-120x may be the perfect gift for them. Have fun exploring the microscopy world (e.g. viewing trichomes and spider mites etc) with your kids. 🙂
What Else to Know About Carson MicroBrite Plus 60x-120x ?
User guide can be found here.
Videos of Carson MicroBrite Plus 60x-120x in Action
This user found mites on her cat. 
This buyer explored the 4 eyes of a dead spider.
Things to Take Note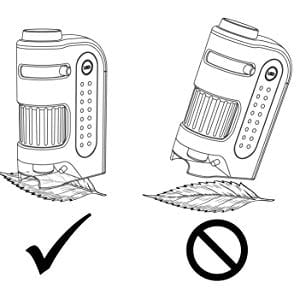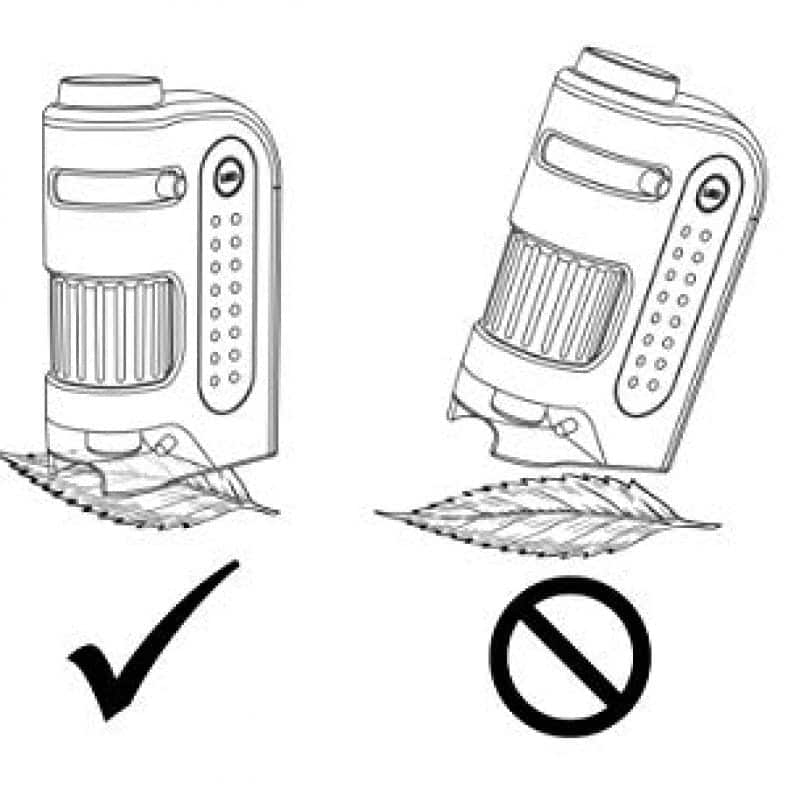 The focal distance is very short for this Carson microscope due to the extremely powerful magnification. Try to hold the microscope directly over the object for optimal image clarity.
Yes, with up to 120x, it is perfect for viewing dust mites.
No, Carson MicroBrite Plus 60x-120x is not meant to be used with any types of cellphone.